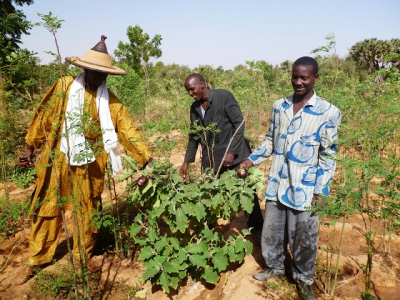 National Committees have been launched in Burkina Faso, Côte d'Ivoire, Gambia, Burundi and Uganda in order to drive the IYFF-2014 in these countries.
Although international trade facilitates in a non equitable way the presence of food and services from different origins in all regions of the World, the power of Family Farming in Africa is undeniable. It provides the 80% of food consumed on the continent. Family Farming in Africa, as in other areas of the world, not only provides food but also it structures an entire socioeconomic and cultural fabric around. It manages the territory, it is a source of income, it needs services and infrastructures, and preserves values and ways of life.
However, African family farms remain underdeveloped. This model, with the right support, could become on the basis of sustainable rural development in favour of millions of people.
With the purpose of increasing awareness on this reality, several farmers' organizations and NGOs in Africa have been working together in recent months, taking advantage of the framework given by the International Year of Family Farming 2014 to promote better public policies for women and men farmers, artisanal fishers and pastoralists. As a result, Burkina Faso, Côte d'Ivoire, Burundi, Gambia and Uganda already have launched National Committees to advance in the effective organization of the IYFF-2014 in their respective countries. Benin, Togo, Kenia and Senegal, among others, are also taking the first steps in the same direction.
Farmers' organizations from Burkina Faso and Côte d'Ivoire, along with several rural development NGOs, took the first step forward and create the first IYFF-2014 National Committees in Africa. INADES Formation-African Institute for Economic and Social Development, which works in ten countries- was instrumental in encouraging these committees, summoning the rest of the associations that supported the campaign for the declaration of the International Year of Family Farming, under the leadership of farmer organizations. The same happened in March in Burundi, where over eighty representatives of farming and rural development organizations participated in a meeting called by INADES. They all agreed on the creation of a Burundian National Committee for IYFF-2014, which consists of ten organizations.
During the spring, the National Committee for the IYFF-2014 was created in Gambia, and most recently, on June 20, the National Committee was established in Uganda with the participation of the following organizations: Participatory Ecological Land Use Management (Pelum), Uganda Land Alliance (ULA), Support for Women in Agriculture and Environment (Swagen), Eastern and Southern Africa Small Scale Farmers Forum (Esaffu), Africa Union of Conservationists (AUC), Abantu for Development (AFD), National Organic Agricultural Movement of Uganda (Nogamu) Uganda Fisheries and Fish Conservation Association (Uffca), ICCO (Icco) and Uganda National Apiculture Development Organization (Tunado).
All these committees move toward the preparation of activities for 2014, within the overall international framework that is being built around the IYFF-2014 by civil society, all of them working in a spirit of collaboration with national governments and international agencies, especially FAO and FIDA. This path is also being opened in other African countries, where more national committees will be generated in the upcoming weeks.
Report on the launching of the IYFF-2014 National Committee in Burundi (French).