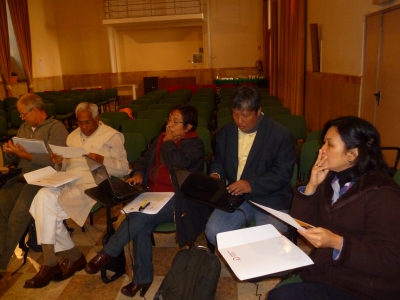 The WCC of the IYFF-2014 hold a meeting 29-30 January. Its role was strengthened in setting the objectives and principles that will guide the IYFF-2014.
The World Consultative Committee (WCC) of the IYFF-2014 hold a meeting in Rome, 29-30 January. Its role and leadership was strengthened in setting the objectives and principles that will guide civil society in its celebration of the International Year of Family Farming 2014
The success of the meeting was remarkable, with consensus on various work proposals about the IYFF-2014 preparation. They were suggested by the women and men representing the farmers´ federations of Africa, America, Asia. Europe and Oceania, with the support of all the other WCC members, to push ahead in 2013 the preparation of the IYFF-2014. It have been set different working areas as advocacy, the IYFF-2014 core message, communication/information. Regarding to national, continental and global coordination tasks, better defined actors and recipients of the IYFF-2014 campaign have been set up, according to the activities and programs of the various existing regional coordinations and networks.
As evidence of its increasing involvement in the IYFF-2014, the WCC established an internal Task Force, in order to expedite its proceedings. The WCC is working to design and launch the IYFF-2014.
During the second meeting day, held at FAO headquarters, we had a cordial gathering with the coordinator of IYFF-2014 in this organization, Ms. Marcela Villarreal, the Liaison Officer of the FAO Director-General for Civil Society , Mr. Rodrigo Castañeda, and a large group of members of the internal team focused on preparing the IYFF-2014. In a spirit of dialogue, both parties raised objectives and tasks on Family Farming and IYFF-2014, looking for the coordination of various initiatives.
That same day also it was held a very positive meeting with Mr. Jean-Philippe Audinet, IFAD Policy Division Acting Director, which stressed the importance of IYFF-2014 to give Family Farming a global impetus.