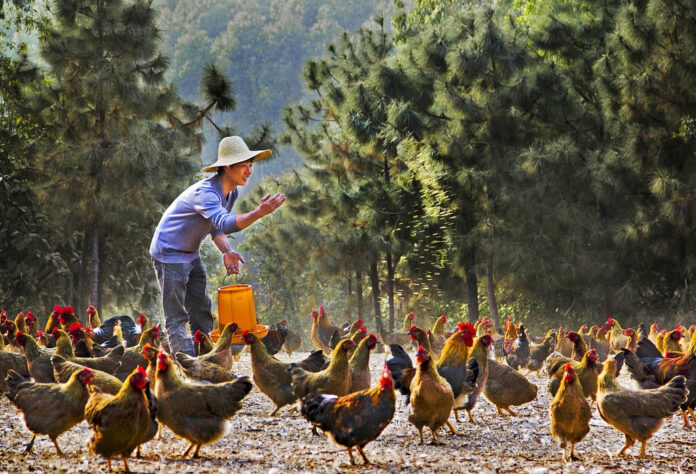 The IYFF+ 10 World Coordination Committee (WCC) launches a new study that analyzes and highlights the common and global challenges faced by rural youth from all 5 continents.
31 May 2018. – The recently published study on Young People and Family Farming stresses the need to prioritize youth in the political agenda by strengthening a comprehensive approach at the institutional level tailored to the needs and demands of rural youth. This study has been carried out by the IYFF+ 10 World Coordination Committee (WCC), currently formed by representatives from ROPPA, PAFO, INADES INTERNATIONAL, COPROFAM, RELACC, PDRR, AFA, ASIADHRRA, SEWA, UPA, AFDI, NZYF, OXFAM, IFOAM Organics International, ACTIONAID, WRF, as well as the National Committees for Family Farming from Madagascar, Costa Rica and Nepal (representing the NCFF that work in different continents). The World Rural Forum (WRF) acts as Secretary of the WCC.
One of the greatest challenges facing family farming in every continent is undoubtedly the steep aging of men and women farmers, coupled with the lack of succession in family farms. In Sub-Saharan Africa, Latin America and Asia as a whole, more than 27% of farmers are over the age of 55. However, 40% of the world population is under the age of 25. Therefore, it is essential that young people envision a future in rural areas. This requires designing measures that improve profits while enhancing the agricultural activity itself.
The study concludes that there is a need to influence public policies to promote youth's attachment to rural areas by guaranteeing rights and services such as: health, social policies, education, communication networks (internet and infrastructures), tax incentives and other measures, including facilitating access to markets and productive resources.
But the study also indicates that education is the most important factor for improving development and living conditions: ranging from basic education in order to train people to think critically to agricultural training to improve productive capacities as well as other capacities such as management, leadership or social skills.
The WRF, in close collaboration with thePolytechnic University of Valencia, coordinated the study on Youth and Family Farming via the experience of young people themselves. An online questionnaire was conducted in Spanish, English, Portuguese and French in order to collect the experiences and lessons learned from rural youth in every continent. In total, 125 responses were obtained from 30 different nationalities.
SUMMARY OF PROPOSALS INCLUDED IN THE STUDY
The study concludes with 14 specific proposals to improve the family farming situation, with a specific focus on youth. These proposals must be the foundation on which to develop advocacy strategies.
Improve economic viability.
Promote youth participation in family farming federations and associations and subsequently in training and political advocacy processes.
Promote gender equality in family farming.
Prioritize young women and men farmers in public policies.
Promote access to capital and financial services that are adapted and designed for young people.
Guarantee land rights and access.
Offer more flexibility in farm succession planning.
Promote partnerships and collaboration as part of the social economy, for instance through cooperatives.
Facilitate access to quality rural education.
Improve technical assistance and rural extension services.
Enhance the role of young people in family farming in the development of strategies to build resilience and address climate change.
Improve living conditions in rural areas.
Address social recognition of family farming.
Foster more sustainable agricultural practices.
PROMOTING RURAL YOUTH IS A PRIORITY FOR IYFF + 10
Family farming organizations have been prioritizing the youth issue during the IYFF-2014 and even more so in the IYFF + 10. They highlight the importance of approving different public policies that promote inclusion, integration as well as social, legal and economic recognition of youth in both the agricultural sector and rural development.
This study seeks to help develop strategies that link youth (men and women) and family farming, particularly within the United Nations Decade of Family Farming (2019-2028) framework, whose resolution explicitly recognizes the fundamental role played by women and youth in family farming.
For more information: