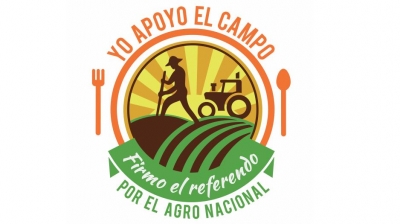 The Referendum includes a bill on Family Farming and is expected to garner over 4 million signatures, although by law 1.7 million signatures would be enough to launch the constitutional referendum.
The petition for a Referendum on National Farming in Colombia is intended to collect signatures backing a referendum to amend articles 64, 65, 66 and 100 of the Constitution, thus requiring Colombia to adopt special protection measures for national agri-food production, to guarantee credit, and to protect the work and income of the country's arable and stock farmers. The application by the Committee Petitioning for a Referendum on National Farming was approved by the Registry on 27 May, allowing it to collect signatures over a period of 6 months.
Colombia's Comité de Impulso Nacional de la Agricultura Familiar (CIN-AF) (National Committee on Family Farming), which is a member of the Committee Petitioning for a Referendum, had a proposal included for a draft Law on Family Farming based on the work on differentiated public policies on Family Farming carried out since 2014, International Year of Family Farming, at various meetings, workshops and discussion groups in a number of regions.
If enough signatures are collected, they will be presented to the Colombian Congress requesting that a referendum be conducted in which Colombian citizens will vote for or against the proposed amendments.
Colombian citizens, both at home and abroad, will be able to sign the petition.
The Petitioning Committee hopes to collect over 4 million signatures in support of its initiative, thanks to the collective work of the organisations promoting the referendum and the organisations, platforms and individuals wishing to support the initiative in the country's various departments.
The Committee Petitioning for a Referendum on National Farming comprises Dignidad Agropecuaria Colombiana (Colombian Farming Dignity), Federación Agraria Nacional (Fanal) (the National Agrarian Federation), Acción Campesina Colombiana (Colombian Rural Action) and Nuevo Liderazgo Agrario (New Farming Leadership) which are part of the CGT (General Workers' Confederation), Sintrainagro which belongs to the CUT (United Confederation of Workers), Fetraval affiliated to the CTC (Workers' Confederation), National Corporation of Food Traders (Conalco) and the National Committee on Family Farming.
The situation in Colombia is influenced by the promising peace processes taking place, and rural development and family farming are playing a highly significant role. Resolute support for family farming will undoubtedly be a fundamental contribution to building peace and social justice.
For more information: