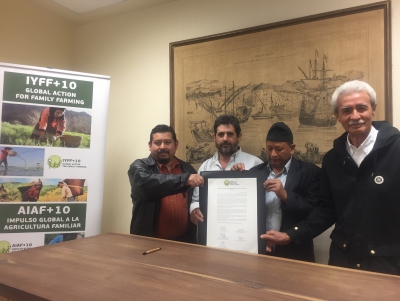 AFA, COPROFAM, PDRR, PIFON, PROPAC and ROPPA have signed the letter of support for the declaration of a Decade on Family Farming.
The regional organisations AFA, COPROFAM, PDRR and PIFON attended the signing ceremony to demonstrate their support for the campaign to have a Decade on Family Farming declared, while PROPAC and ROPPA signed the letter in their own countries and sent it back to us. The signing ceremony took place in Bilbao on 23 February.
Those who signed at that ceremony were Lyam Bahadur Darjee, President of AFA (Asian Farmers' Association), Fernando López, Secretary-General of COPROFAM (Mercosur Confederation of Organisations of Family Producers), Abel Lara, Coordinator of the PDRR (Regional Rural Dialogue Programme for Central America and the Dominican Republic) and Afamasaga Toleafoa, Chairperson of PIFON (Pacific Island Farmers Organisation Network). Letters signed by Elisabeth Atangana, Chairwoman of PROPAC (Plateforme Sous-Régionale des Organisations Paysannes d'Afrique Centrale – Regional Platform for Farmers' Organisations in Central Africa) and Djibo Bagna, Chairman of ROPPA (Network of Farmers' and Producers' Organisations of West Africa) were sent from their own countries.
Those signings confirm the interest shown by a very large number of farmers in Asia, South America, Central America, the Pacific Islands and a large part of Africa in having the UN General Assembly declare a Decade on Family Farming. The Government of Costa Rica will officially present the initiative to the General Assembly.
The Decade on Family Farming would mean prolonging the 2014 International Year of Family Farming and would facilitate achievement of the Sustainable Development Goals (SDG). The specific objectives of the Decade are:
to contribute to the efforts to end hunger and malnutrition
to increase the visibility of family farming and recognition of the fundamental part it plays in feeding humankind
to promote better public policies for the benefit of family farming and to create, strengthen and promote mechanisms and forums for political dialogue, including the National Committees on Family Farming
to increase cooperation between the various stakeholders in rural areas, promoting agreements between consumers, farming and rural organisations, research centres, governments and international organisations, etc.
to promote the inclusion of family farming among research centres' priorities
to put an end to all forms of discrimination against women and girls in rural areas by promoting their empowerment through increased access to information, productive resources, financial resources and the decision-making process
to create an environment conducive to participation by young people in family farming, leading them to remain in the countryside and to become agents of sustainable development.
Day by day, more and more organisations, institutions and governments are demanding that a Decade on Family Farming be declared. For instance, CELAC (the Community of Latin American and Caribbean States which has 33 Member States), REAF (the MERCOSUR Specialized Meeting on Family Farming, comprising 8 countries), the CPLP (the Community of Portuguese-speaking Countries, comprising 9 countries) have already demonstrated their support for the initiative. A number of international bodies, such as the IICA (Inter-American Institute for Cooperation on Agriculture), the ILC (International Land Coalition) and FIDA (International Fund for Agricultural Development), are also supporting the campaign.
Likewise, during the civil society consultations for the 33rd FAO Regional Conference for Asia-Pacific, the 29th FAO Regional Conference in Africa and the 34th FAO Regional Conference for Latin America and the Caribbean, an explicit request was made to have a Decade on Family Farming declared.
We invite other farming organizations, civil society organizations, governments, research centres, universities, international organisations and cooperatives, etc. from all over the world to support the campaign to have a Decade on Family Farming declared. To do so, we ask them to sign the letter of support using the form below.
Let's go on supporting Family Farming together, let's go on building the future!
More information: