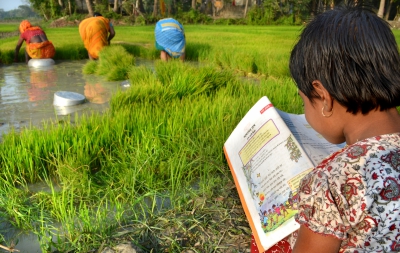 Participatory research stands as one of the three working areas of the IYFF+10 initiative, together with the strengthening of the National Committees for Family Farming and the elaboration of guidelines in support of Family Farming.
Boosting and promoting the link between the agricultural research and innovation sector and Family Farming is the main goal of IYFF+10's Participatory Research line, in which local innovation processes are included.
Family Farming depends on research in order to improve the way of living of farmers, as much as research depends on farmers to fulfill its purpose.  Family Farming needs to retain its identity, but at the same time, also innovate and adapt in order to increase its sustainability and the well-being of families.
The "Family Farming and Research" encounters in Montpellier during the International Year of Family Farming in 2014, stressed the importance of the participatory research processes and the need for active participation by family farmers in all decisions concerning them to ensure this way of live.
Therefore, the IYFF+10 line of work Participatory Research serves as a means to guarantee that agricultural research focuses mainly on the development of Family Farming, offering tools from a broader perspective and an inclusive vision based on the three pillars of sustainability: social, economic and environmental. It will also be useful for centers to carry out their work with an improved involvement with Family Farming organizations.
Effective connection can be achieved through encouraging regular meetings between both sectors and also through joint events, collaborative research and exchange of knowledge, among other activities.
PARTICIPATION IN RESEARCH SPACES FOR DIALOGUE IS ESSENTIAL IN ORDER TO PROMOTE FAMILY FARMING
It's essential for Family Farming to participate in spaces for dialogue focused on research and innovation in order for Family Farming to stand out in the debates and agendas of the research sector.
That's why, IYFF+10 Participatory Research work line will promote meeting points, not only among research and Family Farming, but also among Family Farming organizations through research focus groups, always looking for an effective exchange in order to establish the needs and processes to promote the active participation of family farmers in research.
Moreover, the World Rural Forum (WRF), is a member of the GFAR's steering committee, representing the international organizations of civil society and the NGOs that participate in the spaces for dialogue, where the WRF pushes forward and tries to spread this vision. By doing so, it will also aim for the needs and demands of family farmers to be acknowledged in these spaces.
More information: