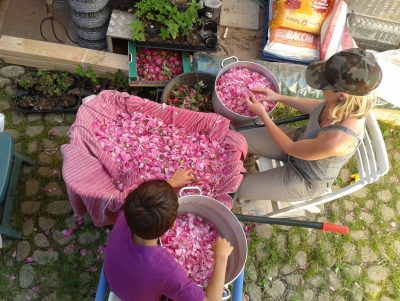 Worldwide, women own just 15% of agricultural land, whilst accounting for almost 50% of the agricultural labour force. 
16 th September 2021. Within the framework of the United Nations Decade of Family Farming 2019-2028 (UNDFF 2019-2028), the World Rural Forum (WRF), together with FAO and other family farming organisations, is working to achieve the adequate participation of women in decision-making. Work must continue in order to promote a transformative gender agenda in political spaces at global, regional and local levels, by creating concrete strategies and policies that accelerate gender equality and the economic and political empowerment of rural women.
The UNDFF 2019-2028 – specifically, pillar 3 – is an instrument that belongs to all women in family farming. The third pillar, which acts as the transversal axis for all the other objectives, focuses precisely on promoting gender equity in family farming and the leadership role of rural women.
"Within the framework of the Decade of Family Farming, one of the priority actions must be to strengthen women's organisations and women's sections within farming organisations so that they can offer inclusive and efficient rural services focused on the challenges facing women and can support their economic and political empowerment, Laura Lorenzo, Director of the World Rural Forum-WRF, points out.
In July 2021, with the support of FAO, the WRF organized a series of regional seminars on "Strengthening Women's Leadership in Family Farming and Sustainable Food Systems".
The events gathered together a total of more than 180 participants from 54 countries across Africa, Asia and Latin America. The participants were mainly women farmers from family farming organisations, women's organisations, and from the National Committees for Family Farming (NCFFs). Other actors from different constituencies, including women organisations, governmental agencies, international organisations and the FAO gender team also participated.
The exchange meetings allowed participants to learn from successful experiences and tools to foster gender equality in family farming. The exchange meetings strengthened dialogue and exchange among women family farmers, national committees for family farming, state representatives and FAO, IFAD officials, contributing to a greater collaboration and coordination in favour of rural women in the framework of the UNDFF 2019-2028.
These exchanges, carried out at regional level in Asia, Africa, Latin America and the Caribbean, have shown that the inequality faced by women, the existing gender gaps and the significant challenges related to social barriers, land rights and lack of representation in policy-making and advocacy processes require holistic, specific and ambitious women-centred approaches.
Unleashing the capacity of rural women to strengthen family farming and its multiple roles, including food production and the fight against climate change, requires the implementation of gender-specific policies, but also the integration of the gender perspective in agricultural policies within government programmes, legal frameworks and budget allocation to guarantee their implementation.
Participants confirmed that the Decade of Family Farming is a powerful tool in advancing gender equity in family farming and the leadership role of rural women. Pillar 3 of the Global Action Plan brings together the main demands of women in terms of access to land, financing, access to extension services, representation in decision-making and protection from gender violence. The need to reinforce actions to develop Pillar 3 was highlighted. To this end, participants expressed different priorities, including i) the importance of continuing and expanding these types of exchanges, collaborations and alliances; ii) the need to strengthen the capacities of women in Farming Organisations; iii) ensuring they can participate meaningfully in the preparation and implementation of national action plans and other policies for rural women within the framework of UNDFF; and iv) ensuring that these policies and plans contain strategies and instruments that accelerate gender equality and the economic and political empowerment of women.
More information: