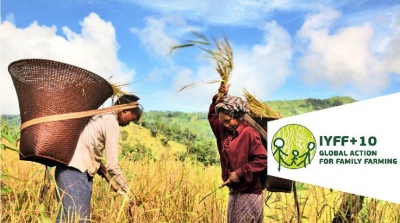 The Congress of Peru unanimously approves the framework law for the Promotion and Sustainable Development of Family Farming, with the important participation of the National Committee of Family Farming in the country.
More than 35 Family Farming National Committees from all around the world participated in the V International Conference of the World Rural Forum: Building the Future: Family Farming, where, after the successes achieved during the IYFF 2014, they identified the future goals and challenges of Family Farming. This was the ideal opportunity for the representatives of the Family Farming National Committees from countries like Burundi, Nepal, Mali, Honduras, Costa Rica, Spain, Gambia or Mexico, among others, to show their commitment to continue working towards the IYFF+10 in the upcoming years.
Among the achievements of the National Committees during the IYFF-2014, we can point to the signing and implementation of the Agriculture Law in Uganda, the reform of the seeds law in Gambia, the creation of the first Family Farming Development Programme in Colombia, the Family Farming public purchasing laws passed in Paraguay and Uruguay, as well as the budget increase for Family Farming in Slovakia and Nepal, among others.
During the V Conference, the National Committees identified the need for greater political commitment in order to facilitate participation in political dialogue, in addition to the lack of resources, which restricts their work.
The IYFF+10 offers an ideal framework to strengthen the work of the National Committees and to facilitate further global results. This initiative keeps the objective to achieve better public policies in favour of Family Farming, seeking collaboration and maximum understanding between the farming organizations, rural associations, research centers, governments and international institutions.
The Congress of Peru passes law to promote Family Farming  
Recently, the Congress of Peru has passed a law for the Promotion and Development of Family Farming. In this way, the law looks to improve the quality of life of farming families, reduce poverty in the rural sector, advise actions to take for bodies at different levels in the government with a multisectoral and intergovernmental focus on sustainable development of family farming.
The objectives mentioned will be completed through implementing policies that improve access to natural productive, technical and financial resources, stable and suitable interaction with the market, and that guarantee the social protection and well-being of families and communities dedicated to this activity based on sustainable management of the land.
The National Committee of Peru has been fundamental on the push of this law that was unanimously approved by the Congress of the Republic.