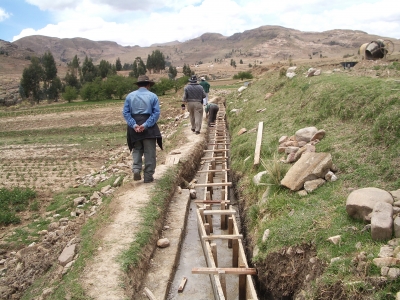 The IYFF- 2014 will be launched in New York on November 22, 2013 at the United Nations. WRF reiterates its proposal to organise national launching acts the same day.
Already in october 2013, we are on the verge of important dates for the preparation of the International Year of Family Farming-IYFF-2014. Until December 31rst, 2013, we have exactly three months to expand and consolidate the development of this important event, focused on the defence and promotion of Family Farming, smallholder farming, traditional fishing, pastoralism and indigenous peoples.
From the coordination of the IYFF-2014 Preparation Program for Civil Society, the World Rural Forum continues to promote, as an absolute priority, the establishment in each country of a National Committee, led by women and men farmers' organisations -with the support and participation of other rural and social sectors- which can define the objectives and aspirations to be achieved during the IYFF-2014, in subsequent dialogue with their governments and with the specialised international organisations such as FAO and IFAD.
So far, more than 40 National Committees, although its name may vary in some locations, are already operating or being set up in countries like South Africa, Argentina, Benin, Belgium, Bolivia, Brazil, Burkina Faso, Burundi, Chile, Ivory Coast, Colombia, Costa Rica, Ecuador, Spain, El Salvador, France, Gambia, Guatemala, India, Indonesia, Italy, Kenya, Democratic Republic of Congo, Nepal, Mali, Peru, Senegal, Switzerland, Slovakia, Togo, Zambia, etc. .
In some of them, representatives of governments and international organizations are already participating, setting a great example of efficiency and consensus building.
We encourage other countries to put in the next few months the foundation of these national committees, as a collective space to define objectives and undergo fruitful inter-institutional dialogues in favour of women and men family farmers.
We also consider as important opportunities the Regional Dialogues on Family Farming , organised by FAO from October to November 2013, on the different continents.
We recall that the launching date of the IYFF-2014 at the United Nations, New York, November 22, 2013, is approaching too. To give greater visibility and relevance, we reiterate our proposal to organise the same day national acts in collaboration, where possible, with the institutions, in order to to popularise the IYFF-2014 among the various social sectors.
Please keep us informed about the activities that you can prepare (WRFsecretary@ruralforum.net) so that we can help disseminating them.
José A. Osaba
FRM
IYFF/AIAF-2014 Coordinator