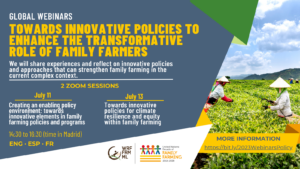 These global webinars will be held on 11 and 13 July 2023 with simultaneous translation in English, French and Spanish.
JULY 11

Creating an enabling policy environment: towards innovative elements in family farming policies and programs

JULY 13

Towards innovative policies for climate resilience (pillar 6) and equity within family farming (pillars 2 and 3)
July 4 2023.- The World Rural Forum (WRF), in collaboration with FAO, is organizing a series of webinars to share experiences and reflect on how to achieve innovations in public policies through the recognition and consideration of the different dimensions of family farming, enabling its action to be amplified, strengthen interconnection with other policies (such as food, nutrition, health, education, gender, youth, and the environment, etc.) in a joint response to global challenges.
Family farming has a unique potential to promote transformative changes in the way food is produced, processed and distributed, enabling us to address the impacts of the interconnected crises facing the food systems (notably the climate, economic and energy crises).
The First Global Forum of the United Nations Decade of Family Farming 2029-2028 (UNDFF) held in September 2022 emphasized that Family farmers need to be at the center of efforts to transform agri-food systems.
This implies integrated and innovative approaches that specifically consider -within different public policies and programs- economic, environmental, social and cultural dimensions of family farming and how the enhancement of these dimension can contribute to different challenges.
It is in this context that the WRF is organising the following webinars:
WEBINAR 1: CREATING AN ENABLING POLICY ENVIRONMENT: TOWARDS INNOVATIVE ELEMENTS IN FAMILY FARMING POLICIES AND PROGRAMS
Date: 11 July 2023
Hour: 30-16.30 Madrid Time
Objective: This webinar will explore existing policies in support of family farming, seeking to analyse how these policies recognize the multidimensional nature of family farming, main achievements and lessons learned, as well as proposals to scale up results and enhance innovative approaches to fully address the economic, environmental and social conditions facing family farmers and their communities.
WEBINAR 2: TOWARDS INNOVATIVE POLICIES FOR CLIMATE RESILIENCE AND EQUITY WITHIN FAMILY FARMING
Date : 13 July 2023
Hour : 30-16.15 Madrid Time
Objective : This second webinar will focus on specific topics and trending priorities to place family farming at the core of transforming food systems, reducing inequalities, and ensuring the sustainability of the planet. In particular, it will address innovative policy approaches promoting the inclusion of youth and gender equality in family farming, as well as the integration of climate issues in the agricultural policies to enhance the key role of family farmers in sustainable food production and climate change mitigation and adaptation measures
Both webinars will have SIMULTANEOUS TRANSLATION IN ENGLISH, FRENCH and SPANISH and can be accessed via the following link to zoom https://us02web.zoom.us/j/86734484959