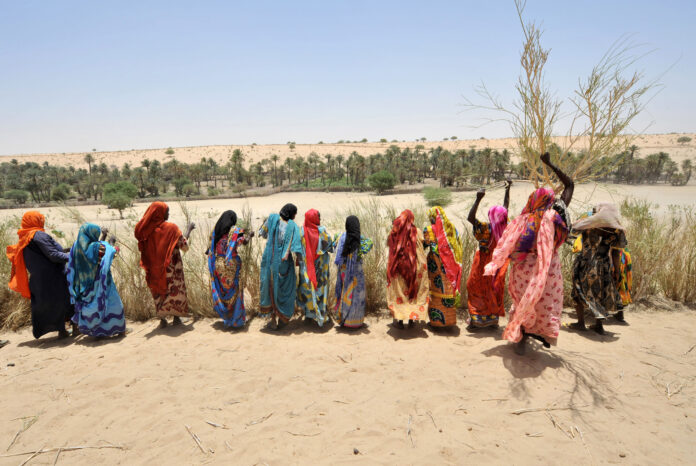 Noteworthy steps taken in the elaboration of UNDFF National Action Plans in several countries, such as Tunisia, Sierra Leone, and the Democratic Republic of Congo.
20 December 2022.- Significant progress has been made in recent months towards the implementation of the United Nations Decade of Family Farming (UNDFF) 2019-2028 in Africa as a result of collaboration between National Committees of Family Farming (NCFF), family farming organisations, government entities, FAO, IFAD and ILC, among other key actors for the development of family farming.
In late 2021 and early 2022, Tunisia adopted its UNDFF National Action Plan (NAP), the first action plan in North Africa. A UNDFF National Steering Committee, composed of several ministries and agencies (MARHP, MAS, IRESA, MFFEPA, MEFP), farmers' organisations (UTAP, UNFT, BTS), FAO and IFAD, coordinated and supervised NAP preparation activities at regional and national levels. The NAP was integrated into Tunisia's three-year National Development Plan (2023-2025).
On 17 November 2022, Sierra Leone's Minister of Agriculture and Forestry officially launched its UNDFF National Action Plan (2021-2030). The NAP, with a strong focus on environmental principles such as agroecology and other sustainable production practices, as well as gender equity and empowering women and youth in value chains, is a strategic tool to address some of the challenges facing family farming in the country. NCFF and FAO, which played a very important role in the elaboration of the NAP, are committed to accompanying the government in the continuation of this process.
In addition, on 25 November 2022, the Ministry of Agriculture of the Democratic Republic of Congo (DRC), in collaboration with FAO, held an important workshop in the process of presentation and construction of the National Action Plan. This national workshop facilitated reinforcing the NAP document and defining the next steps leading to its final technical validation and governmental approval. The workshop is also the result of the awareness and dialogue work carried out by the DRC NCFF with the Congolese authorities, one of the achievements being the government's commitment to the implementation of the UNDFF, a commitment confirmed by President Felix Tshisekedi during the UN Food Systems Summit in September 2021.
4TH MEETING OF AFRICAN NATIONAL COMMITTEES OF FAMILY FARMING
More than 70 people from 27 countries representing 23 African National Committees of Family Farming, 9 National Land Coalitions, ROPPA national platforms, and their executive secretariat, FAO, IFAD, and local authorities exchanged on the Decade of Family Farming and strategies to implement National Action Plans in the region. Special sessions were held during 4 days to exchange experiences and reflect upon the UNDFF National Action Plans, land tenure in Africa, and a training workshop on the public policy cycle for family farming.
The meeting, organised by the World Rural Forum (WRF), the Conseil National de Concertation et de Coopération des Ruraux (CNCR), and the Groupe de Dialogue Social et Politique (GDSP/CNAF du Sénégal), in collaboration with FAO and the International Land Coalition (ILC Africa), took place from 25 to 28 October 2022 in Saly, Senegal.
The meeting evidenced the valuable progress that has been made so far, civil society organisations playing a central role in the development of National Action Plans and other family farming policies in Africa, such as land policies. It also showed that many challenges remain and that more efforts are needed to improve the results achieved, with specific actions to strengthen the dialogue among the main actors involved in family farming at national and regional levels, as well as a more intensive mobilisation of technical and financial resources to support the elaboration and implementation of the UNDFF action plans.
FARMERS' FORUM FOR WEST AND CENTRAL AFRICA, ORGANISED BY IFAD
During the Farmers' Forum held from November 16 to 18 in Ivory Coast, a thematic working session was dedicated specifically to the UNDFF, in order to assess its implementation at national and regional level and to strengthen the engagement and collaboration among key actors such as IFAD, FAO, governments, and civil society organisations. Thus, in their final declaration, national and regional farmers' organisations from West and Central Africa urged governments and regional economic integration institutions to support their initiatives within the UNDFF framework. They also recommended that IFAD promote a strong commitment to financing the implementation of the UNDFF National Action Plans, in particular by leveraging the tools and resources of IFAD's country programmes.
In addition, many African NCFFs continue to make significant efforts to consolidate the NAP validation and adoption processes. Many others continue to work on mobilising national actors around the UNDFF, with technical support from the World Rural Forum and other key partners such as FAO.
These are all important achievements in advancing improved policies, programmes and budgets to enable family farming in Africa to play its central role in poverty eradication, rural development, food systems transformation and climate emergency response.